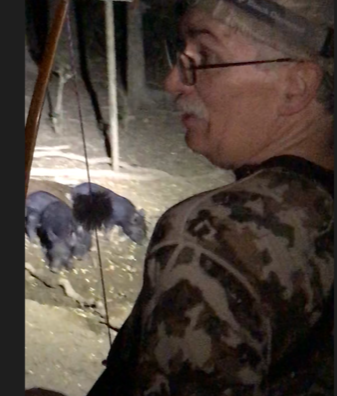 Hello Steve,
March is typically a crazy month for me, and this one proved a little more frantic than most. I actually spent 4 days at home in the entire month! Between not being around, and trying to unpack boxes in my new home on the few days I was around, I have accomplished very little in regards to this hunt's prep.
I was very glad a few days in there I was able to come down South and enjoy my birthday with you and yours, and that we got to do a little hog hunting!!! I snagged that picture above from that video of us walking up on, then away from that little sounder. Glad we didn't anger momma in the dark!
I'm glad to see you have sorted out your optics and sleeping system, I've done a ton of research from different hotel's wifi around the country but haven't done much as far as checking things off my list. Here is my outstanding To Do list from this month:
Prepare 6-8 dehydrated meals, re-hydrate and eat. Modify recipe as needed.
Buy Exo Mountain pack, get adjusted.
Buy new sleeping bag so I don't freeze!
Call local biologist contact after draw.
Seal seams on my tipi, pitch it before a rain storm to test.
Find local taxidermist within WY borders to drop skulls if needed.
You can see I've got a few biggies in there, but they are mostly things I can catch up on quickly now that I'm home for at least most of April.
We hit quite a snafu with our cow elk draw. I didn't realize that as nonresidents we have different application dates than residents, and we missed our deadline to apply. Good news is that we won't be distracted from pursuing mule deer, and if we tag out we can go fly fishing!  This also means we won't have to worry about cooler space for several hundred extra pounds of meat.
My items planned for April include moving up from 64# longbow into 87# longbow, confirm tune on heavy arrows, prep for May hog hunt, and do everything I should have done in March! I will work on coordinating that call with the biologist for a time you can be on too. Let's recap our list of questions a day or two before.
All the best my friend!
Thom