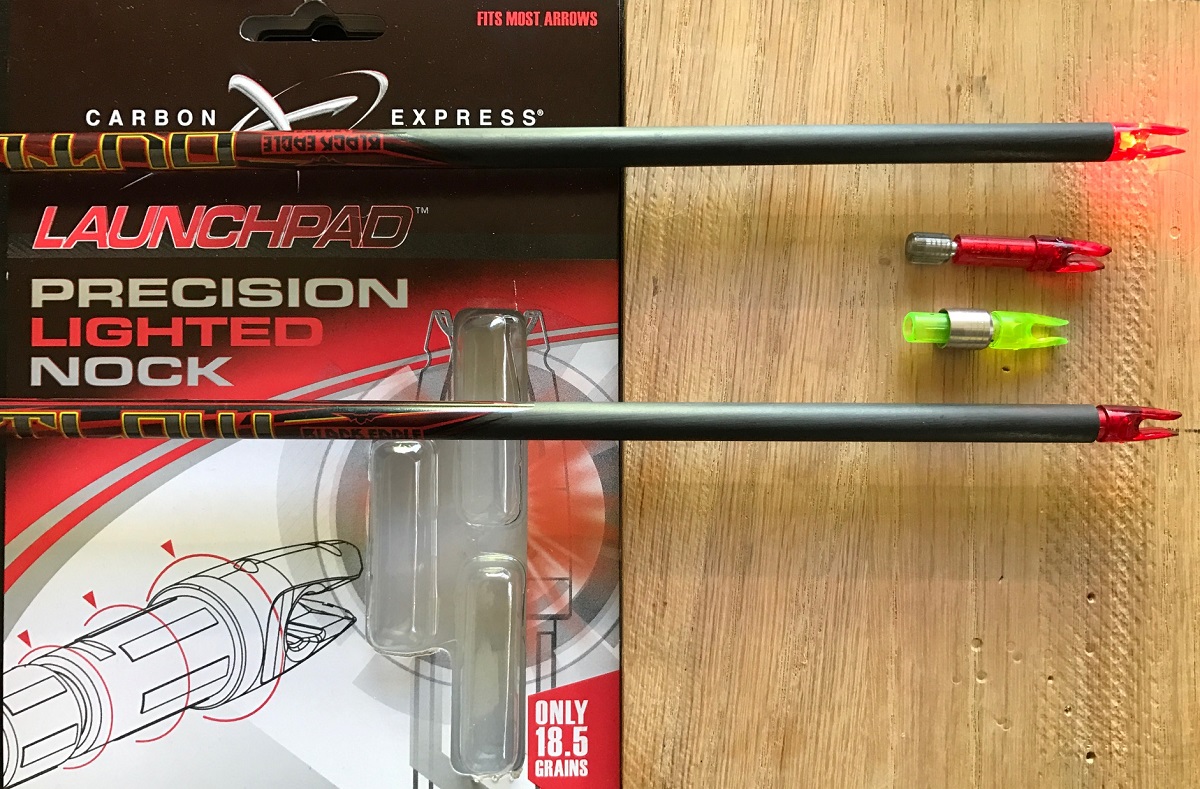 I'm going to skip the whole philosophical debate about illuminated nocks and hunting for this post. For the safety of other human beings, I need to be shooting a highly visible arrow if I get a shot at a black Cape Buffalo. While fletchings of certain colors and mounting methods can make my black arrow better, they can't match the visibility of illuminated nocks.
In the past I used Nocturnal brand nocks with my Black Eagle arrows. For the most part they worked very well. On the plus side, I NEVER had a single shot fail to light it up. That a pretty big thing in the pros column. The cons: I did have them go off in blinds and on stand by bumping the string. Even worse when hunting hogs at night is having to stare into that nock trying to find the little hole with a knife tip to turn it off. Speaking of that knife tip, I HATE that you have to have some tool to turn them off.
I went to the local archery shop (might as well be my second home) to buy some Nocturnals and the owner showed me his arrows setup with Carbon Express "Launchpad" nocks. The price is the exact same. The CE is supposed to be lighter at 18.5 grains, but on my scale they both read 20 grains. The final difference, no tools to turn off the CE nock, just pull and twist.  I bought one pack and shot them that night. Sure enough, they performed exactly as promised and I was very happy with the results.
I will note, this "one size fits most" is really on the tight side of my Black Eagle Outlaws in .300 spine. Every time I needed the nock tool to push them in.
Happy as I was I bought a second pack and outfitted a few more practice arrows with them. On two arrows I couldn't get them to sit all the way in, so I left a tiny gap figuring the first time I shot them they would settle in. Maybe 1/32″ extra gap. Minuscule.  When I shot those two arrows, they lit. On the second shot, neither of them lit. On 5 more consecutive shots they failed to light.  I pulled them out and they were working perfectly. I reinstalled them by hand to the proper mounting depth and they worked perfectly on every shot since then.
I guess it pays to follow the instructions. I'm glad I resolved this before getting frustrated and going back to Nockturnals. I really don't want to need tools afield just to deal with my nocks, especially true with TSA and international travel on the horizon. Simple is best.