It seems that in recent years hunting has gone in a direction I don't like. There is a vocal group with a perverse fascination with whitetail deer and some magical number of inches of horn. This group must also have an inordinate number of dollars-per-hunter in order to capture so much media and marketing attention. Even on the rare occasion when I've harvested mathematically impressive animal, it's had nothing to do with a "trophy value" in my heart.
If ever an animal should challenge a hunter to question their thinking on what constitutes a "trophy" animal, Cape Buffalo should be that species!
Let's consider first an animal that should score very well by Rowland Ward standards: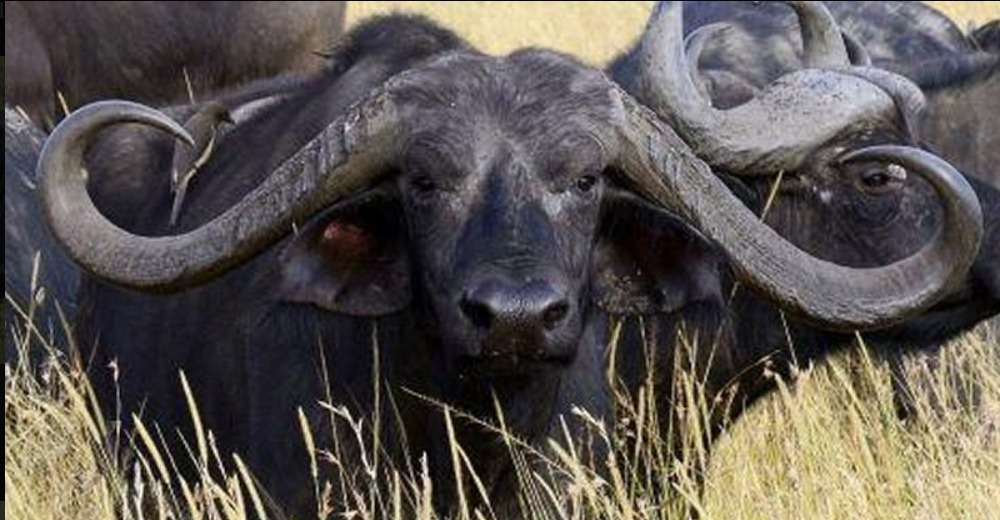 Like many of the top trophies in the book, this is a cow. My first problem with using "inches" to define what is a "trophy" is this: why should a healthy mature cow be removed from a heard just to satisfy some fabricated measurement system requirement? I don't intend any disrespect to anyone who decided to anyone who has killed cows with wide horns, but I have to point out that raw inches is a bad way to evaluate a trophy.
Let's consider another animal's horns: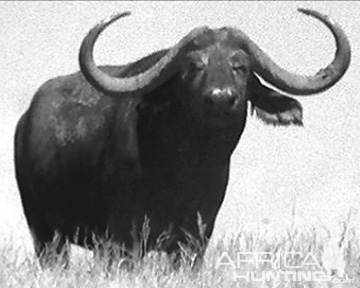 Unlike Rowland Ward, Safari Club International only considers bulls for the books. The bull above has a good number of inches and I would think would easily make the book. Here is the rub with this: Many animals grow bigger antlers or horns every year making a high number of inches desirable.  Cape Buffalo are born without horns, and they grow them outwards until they start fighting when they reach sexual maturity. It's possible a bull might have its highest "score" the day before he hits sexual maturity. A handful of the bulls currently in the SCI top 20 were bulls that were not mature. In whitetail terms it would be like adding a spike to the P&Y book. It just shouldn't happen.
From the same site, here is another picture to look at: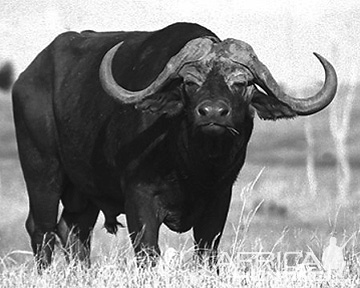 What a fantastic animal! Here is a mature bull with flattened out horns and a hard boss. This animal would probably score lower than the first two, but this is the type of animal ideal to hunt. His removal from the herd would not hurt the herd in any way, and he is possibly in that wise/wary but non-breeding/on-the-way-out end of the spectrum.
That website is quite interesting, as well as a few chapters in Africa's Most Dangerous.
Finally let us consider the "scrum cap" bull: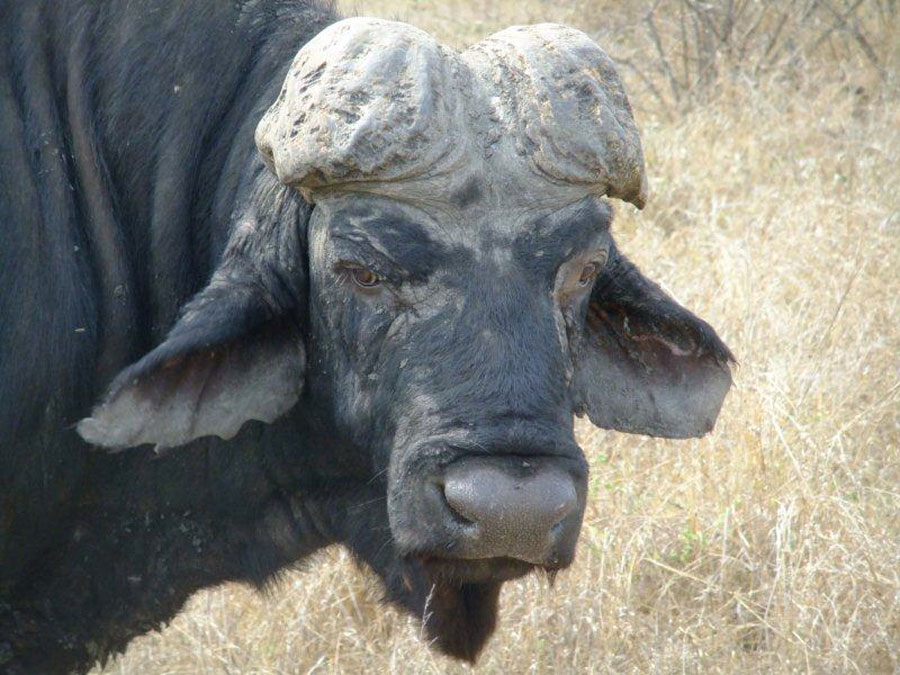 A bull like this would score very low on the SCI scale, but just look at this old battle worn veteran! Everything about this bull is exactly what should constitute a trophy pursuit. Everything except the measurement and inches that would have him be a "trophy" officially.
Not many folks are interested in buffalo hunting, if you made it this far into the post my hat is off to you. I personally find it very interesting how the idea of "inches" that works so well for deer and elk, does so poorly for buffalo.
While a nice symmetrical set of horns looks nice, and it could put a hunter in the record books, a true trophy to me has nothing to do with what anyone else can see or measure. It's all found within one's self and what they see when they look out into the world.