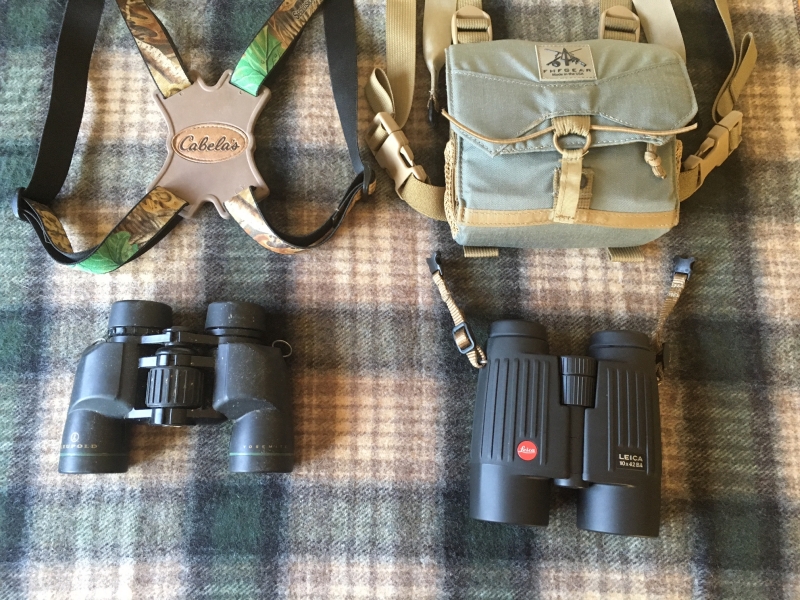 I've made some public posts and comments over the years and some of them I admit conflict with one another. Here is my setup as it stands in 2016.
On the left you will see a 6 year old pair of Leopold Yosemite 6×30 binoculars. You can also see they are pretty well beat to hell. I bought these for under $100 with the intent on banging them up and breaking them, then replacing them with another set. These I use exclusively for hog hunting where I'm scanning very short ranges and never in early or late light. I did try to replace them with a pair of Vortex Raptor 6x32s and I didn't like them nearly as much. If I wanted to upgrade instead of replace, I'd be very tempted to contact Maven and have them ship me a demo unit of their B3 in 6×30. At $500 that's a pretty big investment in a pair of beater compacts.
Above my cheap glass you will see the Cabelas Hybrid harness. Even with these light binoculars I wore that neck strap for one hunt and found myself with neck pains. I bought this harness and never had the problem again. I also like how it's never gotten in the way of my bowstring under any situation. For an added bonus I got these out of the Bargain Cave for a steal of a price!
Now on the right side of that picture, there is a whole different setup that I do not use often. My Leica Trinovid 10×42 binoculars are the older generation but the glass is phenomenal! 10x is right at the top of what I can hand hold when buck fever is kicking in, and they are small and light enough to not be a hindrance like models with 50mm objective lenses. I was using these to size up pronghorn bucks at long distances on the prairie this season and found these very well suited for the job.
To protect the nice Leica glass, I invested in a great harness. I first looked at the Kuiu and it had some nice features but a few things I didn't like. Next I checked out the Sitka Gear Bino Bivy which looked great, but I didn't want the zipper. That was when I found FHF Gear and I bought that one. I really like that the harness is fully connected all the time and the binoculars have separate webbing going to them and that everything is very adjustable. I also like the simple closeure system and that there are some pockets on the flap, sides, and under the flap for different small items like calls, a lens cloth, etc.  I actually spent more on this harness than I did on both my cheap binoculars and my cheap harness, but I'm very happy to have made the investment to protect my quality glass.
I hope this clarifies any old comments on old forums or websites that might still be floating around.