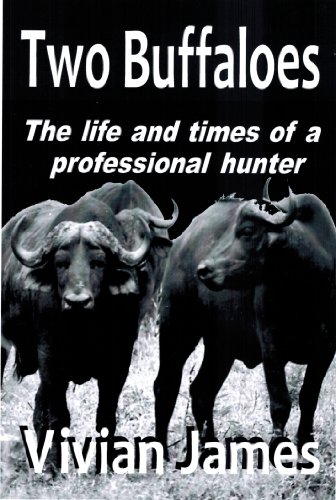 Two Buffaloes: The Life And Times Of A Professional Hunter was written recently by Vivian James, but there is more to that story. Lois Woodruff was a Professional Hunter back in "Old Africa" striking out on safaris and hunts throughout the mid-twentieth century. Around 1990 "Woody" apparently recorded a great many of his adventures, and Vivian transcribed them into this book.
Each chapter builds on his life as a hunter, then as a Professional Hunter. He describes the African plains and it's abundant game beautifully. He doesn't hold back on the bureaucracy of government, nor the abilities/inabilities of his clients and peers. This is a honest dialogue from a "take it or leave it" sort of fellow.  This is definitely a gun book, it's all about the side by sides, and the only mention of bows are those being held by starving natives.
To me the best way to approach this book is that of one as someone who is ready to embrace the romantic side of old Africa. Think Roosevelt or Hemingway and then dive in! I enjoyed this far more than the books of Capstick or Ruark.
The voice of the book does sound genuinely autobiographical, it could be a verbatim transcript although I have not contacted the author to discuss or confirm.
In summary if I had a 5 star rating, this would get all 5 stars. I loved the authentic tone of the old Africa tales and I devoured it in a very few hours.