During my first year of hunting with a longbow, I shared one deer camp with a nice bunch of fellows. They asked me a bit about my quiver, and I asked them a bit about theirs. Nearly all of them had Great Northern strap on quivers on their longbows. As we were wrapping up the conversation, Mike Vines quipped "you'll have one of these eventually." He was right.
In the years between that comment and June of 2016 I have bought and sold 5 bow quivers and 4 back or side quivers. I weighed out the pros and cons of my field experiences with all of them and decided on exactly what quiver I wanted for my "one bow", a Great Northern side mounted Kickback.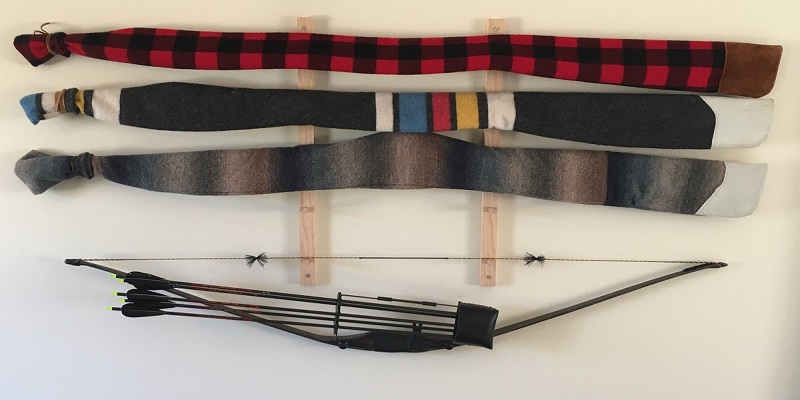 Here is how I decided on this being my "ultimate" quiver.
Several of the "strap on" models from other manufacturers had a tendency to slip up the upper limb when putting arrows back into the hood after a failed stalk or uneventful sit. I really didn't like the idea of it moving enough to effect my tune. When I had this bow made, I had quiver inserts put into the solid phenolic handle. I have used the rubber straps that Great Northern uses on it's awesome Gadget Adapter for my string tracker and bowfishing, and I believe their strap on quiver would be a great choice too, but I want to eliminate that entirely from my quiver setup.
Great Northern uses little thumb screws. I bought two extra sets and stashed them in my hunting tote. I had a hunt where I had put a side bolt quiver on this bow with an allen wrench and then lost the tool during the hunt. I had to drive home with the quiver attached to both sides of the bow, and the bow not in the case. That was actually the event spurred me to finally contact Bob and get my quiver made.
Last thing I needed was an extra deep hood to keep my long 3:1 heads fully covered.
I took my bow to Compton Traditional Bowhunters Rendezvous and had that angle of the kickback measured up on my bow, and I put my 32″ long arrows in it to see how it would follow my lower limb. I REALLY like the kickback design and I'm really glad that Great Northern now offers it. About an hour later Bob had finished assembling my quiver and I put it on my bow where it still remains.
I really can't say how happy I am with every aspect of this quiver. All of my old quivers are sold and gone except a side quiver that I still use on 3d courses. Now we know, Mike Vines was right.