It's obvious that Tom Kidwell did a remarkable amount of research before publishing this book! It's amazing that given how long humans and pigs have had this interwoven history that we don't understand them much better!
After the forward by G. Fred Asbell, the first chapter gives a in depth look at how feral hogs reached the new world and where they readily took hold. I was surprised to learn that the place I hunt is very near a release location of 200 hogs in 1521. The chapter builds through time and covers many islands as well as Central and North America.
The next chapter is about hog habitat and although it covers a great deal I wish it could have contained more. Every bit of new information seemed to confirm something I'd suspected or observed first hand.
Chapter 3 is about hog attacks. I've seen very little first hand in the way of aggressive responses so it seems a little overly cautionary to me personally. The author must believe it's important due to dedicating a chapter on it, I will say it's a well researched chapter with many good case studies of attacks. The following chapter covers other dangers present when hog hunting and I found that to be a nicely framed topic.
I have to say, if you ever intend on bowhunting hogs, Chapter 5 on anatomy should be required reading for you! Many people could really up their odds on a clean kill by not only understanding the body structure better, but by also understanding their senses and intellect. Required reading for every bowhunter. Once the reader better understands their capabilities, the next chapter talks about what hunters must consider from their senses of sight and smell.
Chapters 8 and onward were all at some level interesting to me, and I've read each of them a few times over the past year or so. They seem to be mostly common sense, but it's good info for the new hog hunter to have handy in this volume.
In conclusion, this is the best single source of information I have ever seen on feral hogs. I can't recommend it strongly enough, and I have pushed many of my peers to take an evening or two and read it cover to cover. It's a small commitment of time and it can only make you a better hunter!
Here is where you can get your own copy: The American Feral Hog on smile.amazon.com
When you use smile.amazon.com instead of amazon.com you get the same product for the same price, but you are allowed to select a non-profit to receive a small donation from Amazon. I am currently supporting the Michigan Longbow Association.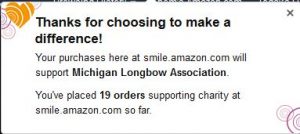 Thom